If there is something that we are positive about at Novsus, it is the unbreakable relationship between personal care and the care for the planet. In our opinion, there can't be one without the other, that's why, it was essential for us to find the formula that would allow us to offer cosmetics for personal care in containers that care for the planet. Thus, we have developed our collection of sustainable cosmetic packaging made from Oryzite, the most eco-friendly alternative to plastic!
Today, we'll tell you everything you need to know about our sustainable packaging solutions for cosmetics, from our line of sustainable cosmetic packaging to how our materials manage to minimize your carbon footprint.
Our sustainable and ecological solutions for your cosmetic products
In cosmetics, it's vital to pay the attention that the packaging deserves, since it will send the most powerful message to all your potential customers about what your brand is like and what makes it different from the rest, as well as its values. And this is where you have to take into account that more and more people are aware of the need to evolve towards more sustainable and environmentally friendly formulas.
The movement of clean cosmetics or Clean Beauty not only consists of choosing organic and cruelty-free products, it also involves having eco-friendly beauty packaging. For this reason, at Novsus, we offer you a line of sustainable and ecological solutions so that your cosmetic brand meets all the basics of this movement, which is here to stay.
Tailor-made solution for your cosmetic products
After years of constant work, we have developed a method that helps us create custom-made sustainable cosmetic packaging for each one of our clients.
Our goal is to understand, from the beginning and in-depth, each project's needs to offer adapted solutions in an agile way. To do this, we accompany each client during all stages of the process, from the idea to production, going through the design to guarantee that the final result will be sustainable cosmetic packaging that will make the most of the advantages of our materials.
In addition, all our biobased cosmetic containers comply with every current legislation on safety, sustainability and quality.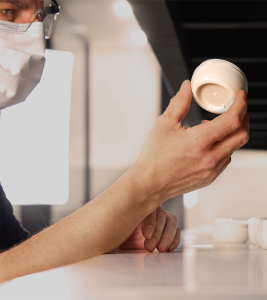 Our line of eco-packaging for cosmetics
As mentioned earlier, one of the most important advantages we offer at Novsus is our ability to create all kinds of sustainable cosmetic packaging. Each project is unique, and therefore, each jar is too. Here are some examples of packaging that we can create with our technology, 100% custom-made for your product:
Make-up
Lipstick
Skincare
Haircare
Lotions
Mascara
Moisturizing
Perfume caps
What is sustainable packaging?
We refer to sustainable packaging when we talk about any kind of packaging created from materials that respect the environment or that, at least in their production and transformation, generate fewer carbon emissions.
Focusing on the sustainable beauty packaging segment, the trend is to move further and further away from single-use choices, to evolve toward what is reusable, refillable or recyclable.
The real key to sustainable packaging is that the organic materials used do not require a product that needs to consume a lot of water, polluting chemicals, or fossil fuels that release large amounts of CO2, as could happen with paper or cardboard.
How you help the world with Novsus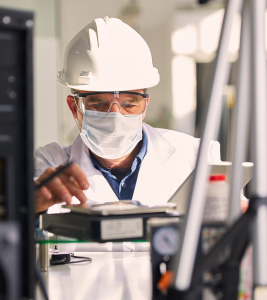 It is clear that finding sustainable cosmetic packaging alternatives is not easy; many variables must considered, including the amount of plastic used or CO2 emissions during the extraction of the material and the production of the jars.
At Novsus, we work every day to be the most ecological and sustainable alternative on the market, always. And it is that, after years of experience, we have achieved:
Reduce CO2 emissions by 70%
Replace the plastic with Oryzite (rice husk) up to 92%
Contribute to the SDGs: The sustainable development goals are 17 goals set for 2030, a program proposed by the UN to build a more sustainable and healthy future.
Use sustainable materials that minimize the carbon footprint both in its production phase and during the manufacture of biobased packaging for cosmetics.
But this is not all, our goals are ambitious, and we want to achieve them all. For this reason, we continue experimenting and researching to further reduce the percentage of plastic in our bio-based containers for cosmetics while extending their useful life and optimizing our processes to continue reducing our carbon footprint.
What material do we use for your cosmetic containers?
Each and every one of our sustainable cosmetic packaging models are crafted from Oryzite. This material is produced from rice husk, which is totally indigestible for humans and animals and has become one of the most important agro-industrial by-products.
Did you know that, every year, about 750 million tons of rice are yield? 20% of it is husk that, once treated, can replace plastic. In this way, we can reduce its use, the environmental impact of its production and the resulting waste. We can't think of a better way to give waste a second life!
But this is not all; there are many advantages of using Oryzite to create our eco-friendly beauty packaging, for instance, the energy cost of producing it is minimal, so natural resources are hardly consumed.
The best of all? After lengthy investigations, we have the formula to efficiently modulate the percentage of Oryzite that we include in each of our creations to guarantee the best responce to the client's needs. We offer 2 basic compositions, which can be modified depending on each specific project:
Akoa: Mixture of Oryzite with any polymer
Norava: Mixture of Oryzite with biodegradable polymer
In both cases, we are dealing with materials that reduce CO2 emissions a lot, are reusable and recyclable and can replace plastic by up to 92%. In addition, they manage to improve the polymers characteristics, such as:
Plasticity
Low thermal conductivity
Product protection
Fire retardant properties
Low moisture absorption
Novsus: Pioneers in sustainable cosmetics
As you can see, a cosmetic sector committed to personal and planet care is possible. We are in the midst of a revolution, and it's time to innovate and adopt new ways of doing things to move toward a more sustainable future.
Our experience, development, and research trajectory have led us to integrate Oryzite into our jars to achieve this. Therefore, now that you know exactly how we make sustainable cosmetic packaging, what are you waiting for to start using it in your brand? Ask for your sample and tell us about your project. We look forward to hearing from you and creating together the new sustainable cosmetic packaging for your brand